I'm a big fan of making crafts that make you want to do a
"Happy Dance"
in the middle of making them.
You
Happy Dance
because it was so easy, so fun and looks
SO GOOD
that you sometimes forget you didn't buy it
but you made it.
My friend and I made one such gem today.
After one conversation with
Sarah
we were head over heels with each other.
We had found our
crafting buddy!
She has been trying for a few weeks now to come over and have a "Craft Day".
Finally we found a date and the craft requests and supplies started texting in...
Rustic Chalkboard Serving Tray
from
The Wood Grain Cottage
:
Their tutorial is amazing and that is what we followed so if you love this... go over there and make one of these
SUPER EASY
babies yourself!
Here are ours!
Awesome twenty minute project.
Besides that beauty
Sarah
wanted to make a
Growth Chart Ruler
.
Those are two incredibly easy crafts that we could totally pull off in one morning with
I've made a
Growth Chart Ruler
before to chronicle
my little Monsters growth-
I assumed this
Growth Chart Ruler
would be exactly the same. It's like a three process step and you can knock one of these puppies out in as fast as you can get your wood stain to dry!
So she went shopping and brought over this amazing
new
stain color I hadn't seen yet!
I was so excited about it I brought some projects of mine out to stain as well. Plus she left it at my house so I could play with it for other projects!! True Friend.
She bought a regular
1"x6" foot board
board for under $5 at Home Depot. Under
$5
people!
When you buy a board to make a ruler chart
make sure
it's six feet, that it has some good knots in it and
also that it is level
. Look at it sideways and make sure it's not bowed. If it is when you put it on your wall it will pop up (like mine does... oie...) You want it to be flat against your wall so try and find the straightest board you can.
We brushed on the stain, wiped it off after about twenty minutes to make sure there weren't any wet spots (wet stain spots...
Will Not Dry
no matter how much time you give them.)
I brought it in for the night so it wouldn't warp outside and the next day we put it on the counter to put on our inch marks and numbers!
Now here is where a regular
Growth Chart Ruler
craft changed suddenly and completely...
I pulled up Pinterest and "
Growth Chart Ruler
" to show Sarah all the options she had for how to position the numbers and inch marks on the chart.
While looking... we saw this
BAD BOY
: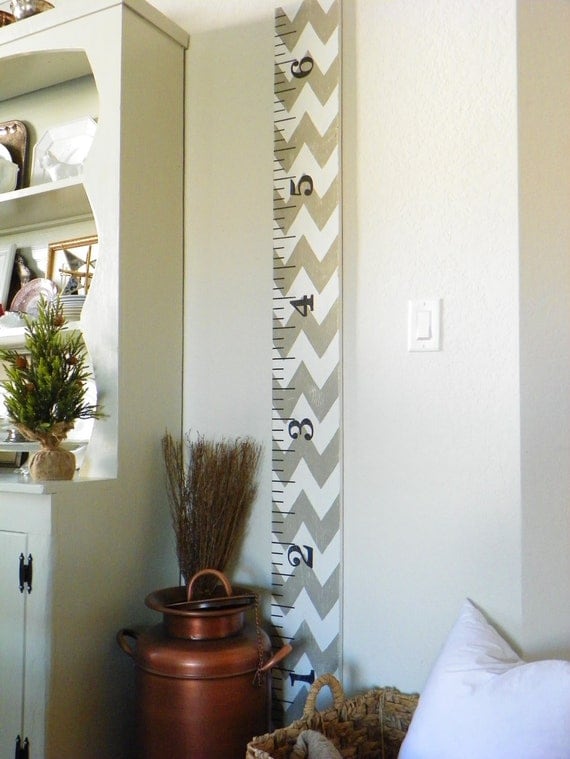 It's from an adorable Etsy shop called
Winder and Maine Shoppe
and that piece of awesomeness... costs $70 + $28 to ship it. I almost had a heart attack... that's
$98 for a piece of wood!!!
Thankfully
Sarah
and I have the same problem. We see a craft... and have to do it.
We saw this and immediately thought...
So we got to work!
Now
Chevron
is amazing... so beautiful...
so horrible to pull off
... Right?
Yea, if you sit there and tape it off.... It's a
stinkin nightmare.
But please don't.
Save yourself!!
Do it this fast and EASY WAY!!
First: We found a
Chevron
pattern we liked. We wanted a big fat one so we googled big chevron and soon realized we'd have to tweak one ourselves. Here is my final project:
Feel free to steal this puppy for your use in any
Chevron
Project you do.
We just used the middle
Chevron
stripe.
I made it an
8x11
so it would print right on a regular piece of card stock. I also took out all the color in it so I wouldn't use all my ink. (I try and be thrifty like that...)
We cut out the one
Chevron
strip we wanted and than got some self-adhesive vinyl.
I have a Cricut so have some of that stuff lying around alot. If not it can easily be bought at Hobby Lobby and with a 40% coupon it will be worth the price.
Second: We rolled out our pink self adhesive vinyl and laid our design on it. We traced two
Chevron
strips on it. You
NEED
at least two.
Third: We placed our new
Chevron
Stickers on our board and started painting!
This is a great picture except that I'm not wearing my
wedding rings
...
H
Obviously I should NOT wear my
wedding rings
when crafting cause who knows what I'd do to them... but I felt I needed to mention that they SHOULD be there cause my husband spent so much love and money on them... and I LOVE THEM. Thank you baby!
Ok
back to the craft...
Since the board had an amazing light gray stain we wanted to keep with the rustic look so we got out some just regular house paint I had left over and a brush to
dry brush
on the white chevron stripes.
Then we would just take the top
Chevron
Sticker and move it under the next one. Ours were
Was it always perfect?
No...
but we were able to fix any small mess ups I made quickly and would just compensate on the next one moving it back over a bit.
The end result... was
stunning
.
And it took a whopping... half an hour.
HALF AN HOUR PEOPLE!!!
If we would have measured we would still be measuring...
Now we were back at where we started putting on some inch marks and the numbers!
You can do this any way you like. All to the left. All to the right. Numbers on one side, inch marks on the other... or numbers sideways!
It's all what you enjoy to look at.
Sarah
wanted her numbers closer to the inch marks so we took the same number outlines I had printed out for my Ruler Chart and just stuck them on the board. We dry brushed some black craft paint into the outline number holes and
VIOLA!!!
It's adorable isn't it?!
If you have always been wanting to do a
Growth Chart Ruler
(and you know you have) go ahead and do it! It takes so little time and the satisfaction you get from a job well done...
You'll be doing a
Happy Craft Dance.
And hey, if you don't have the time to make one or it just isn't your thing (and trust me I understand)...
I know this Etsy shop that makes beautiful ones.
d
Here are ALL the materials you'll need to make the beauty above:
- 1 - 1"x6" foot board.
- Wood Stain
- White paint (primer paint, house paint, craft paint, ect...)
- Chevron Pattern
- Self Adhesive Vinyl (for Chevron & Numbers)
- Ruler
- Sharpie (That's what we made all the inch mark lines with)
- Black craft paint
You can get all those for probably
under $20
.
Hey... you might be so good at it you could sell them online on Etsy.
Just don't expect me to buy one unless I win the lottery.
This post is linked up at: